It is officially time for the first ever edition of Random Acts of Craftiness, the monthly creative challenge set forth by His & Hers.  For those of you who are unfamiliar, each month we are presented with a random item and asked to stretch our creative minds to use this item in a fun, new, inventive project.  For the maiden voyage, the item is game pieces….board games, cards, domino, dice, etc.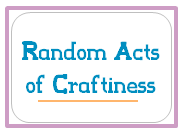 As soon as the challenge was announced I began racking by brain trying to come up with something new and amazing.  Maybe a sweet domino clock?  Or game piece x-mas ornaments?  Then my husband threw out the idea of a game table.  I won't go into too much detail because I still plan on making it some day when I get the time, but let's just say it would blow your mind.  Or at least the idea blew mine and still sounds awesome in my head.  Being that I waited too long and we don't have room for a game table in our current place, I finally decided on creating a piece of wall art using a large canvas and Uno cards.
All you need is a canvas, Uno cards, glue and paint! I started off by jumping online and grabbing an image of a chevron pattern.  I made it large enough to fit well on the canvas and printed it.
Once printed, I cut out two rows of the chevron pattern and taped them together to create a template long enough to span the length of my canvas.
Using the newly created stencil, trace your chevron pattern onto the canvas.
All done and ready for the next step.
Randomly cut your Uno cards into lots of pieces.  I made a point to keep a few larger sections, such as the word Uno and +4.
It took a while, but the chevron pattern started to come together, little glued piece of card after another.
Here it is once all the pieces were glued on.
I originally planned on using white paint with the Uno chevron pattern, but realized that there was not enough contrast.  Luckily I had some black fabric paint on hand from my canvas map art.
And here the final product in all its glory! Ready for a future game room some day