This seems to be the week of crafty challenges!  First the Fall Pinterest Challenge, and now it's that time again!  Time to get crafty and try to think outside the box with the monthly Random Acts of Craftiness creative challenge set forth by His & Hers.  For those of you who are unfamiliar, each month we are presented with a random item and asked to stretch our creative minds to use this item in a new, original project.  For the second round of this challenge, we were challenged with the theme: odds and ends from the hardware store.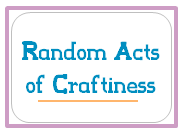 Raise your hand if you promised to start your craft right away, but found yourself project-less just two short days before the link-up.  Am I alone in this?  Monday night I sat down after work and started scouring our tool box for any odds and ends to make my project.  I first thought maybe I could make something cool with my random brightly colored zip ties, but set them aside after a few minutes.  I started looking all around the house for any inspiration when it hit me.  I could really use a necklace hanging rack.
I know this is not the most inventive idea, but I did use a bunch of random screws that I had from other projects so I think it still qualifies as odds and ends from Hardware stores.  And I finally got a way to view and display some of my unique, handmade necklaces.  Maybe now that I can find them I will wear them a bit more often
 This was a really simple project to make, and here is a quick tutorial.
Materials:
Wooden hanger (I had one left over from my wedding, but you can get them here Natural Finish Wood Shirt Hangers – Set of 6
)
15-20 screws
Screw driver
Acrylic Paint (I used Folk Art 4066 Enamel 2-Ounce Acrylic Paint, Turquoise
 that I already had on hand)
Sandpaper
Ruler & Pencil
Step one: Starting at one end of your hanger, screw in your first screw. With this as a starting point, measure out and mark when each sequential screw should be placed. I did this step to make sure my end result would come out nice and evenly spaced.
Step two: Proceed with screwing all the remaining screw.
**Tip: Be care not to screw all the way through, or you may get cracks in your hanger like I did towards the end when was trying to go too quickly to finish the project while watching Amazing Race and drinking wine. Luckily I was able to mask my mistake later in the painting stage.
Step three: Take your sand paper and smooth out any rough wood around each screw hole. Grab a small paint brush and your paint color of choice and paint your hanger.
Step four: Let dry and it is ready to use!
Very simple and cute. Not as adventurous as I would like to be in these challenges, but this just means I needs to step it up and bring my "A" game next time around!
Check out my other Random Acts of Craftiness masterpieces:
Uno Card Wall Art